Review: The Bone Witch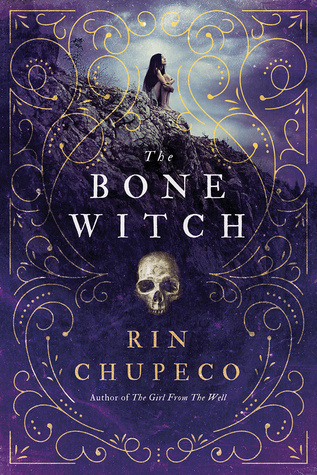 The Bone Witch by Rin Chupeco

| ISBN:

1492635820

| Pages: 400 |
Publication Date: March 7, 2017 | Source: NetGalley
| Rating: 4.5 out of 5 stars |
★★★★☆
When Tea accidentally resurrects her brother from the dead, she learns she is different from the other witches in her family. Her gift for necromancy means that she's a bone witch, a title that makes her feared and ostracized by her community. But Tea finds solace and guidance with an older, wiser bone witch, who takes Tea and her brother to another land for training.
In her new home, Tea puts all her energy into becoming an asha — one who can wield elemental magic. But dark forces are approaching quickly, and in the face of danger, Tea will have to overcome her obstacles…and make a powerful choice.
Memoirs of a Geisha meets The Name of the Wind in this brilliant new fantasy series by Rin Chupeco!
I am at a loss for words. The Bone Witch blew every expectation I had out of the water and I'm left grasping for words to express my thoughts. As the summary states, it's a "Memoirs of a Geisha meets The Name of the Wind" and while I haven't read either (I know, shame on me), I know enough about each novel to know that if one combines the two it will be epic journey.
We follow a young girl named Tea who accidentally brings her brother back to life after he is killed in battle. Her ability to do so means that she has the ability to control Dark and makes her a bone witch, someone feared and despised by society. Luckily, there's another Dark witch passing through nearby who takes her to the Willows where she will be trained to use her necromancy for entertainment and the good of the kingdom.
"There is no greater strength than the ability to understand and accept your own flaws."
However, once she arrives, Tea realizes that the rigid structure of the Willows is more complex and restricted. As the only other bone witch in the Willows, she has a lot of things to learn and a very important role in society to fill. Amidst the high expectations, Tea continues to challenge every status quo she can and strives to fulfill the duty she believes she has to the world, even if it goes against what the law says.
"We can endure any amount of sadness, for the people we love."
This story is written in a duo-form storyline that intertwines. The first one follows a bard who seeks a banished Tea out and the second is her story. With the two storylines, you can see how Tea continues to be so strong despite everything that is thrown at her and how she continues to use her powers for what she believes is good.
"Then perhaps we should carve a world one day where the strength lies in who you are, rather than in what they expect you to be."
I absolutely loved the amount of detail Rin Chupeco goes into when describing the world of the asha from the complex history to the elaborate dresses. While that can get a bit tiresome at times, the vivid imagery helps to keep the story alive and colorful. I also loved the diversity of the characters from Likh to Fox and Zoya to Mykaela. Each represents a different form of art and holds a different relationship that plays an important role in shaping Tea.
Like I mentioned above, words are hard to express just how blown away I was by the story and how everything was executed. Every twist and turn of the story had my mind reeling for answers and I can't believe that I have to wait an entire year to read the next story, but I definitely will keep an eye out.