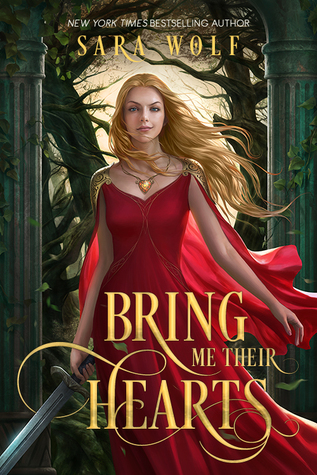 Bring Me Their Hearts by Sara Wolf

| ISBN:
978-1640631465
| Pages: 362 |

Publication Date: June 5, 2018 | Source: Entangled Teen

| Rating: 3.5 out of 5 stars |
★★★☆

Zera is a Heartless – the immortal, unageing soldier of a witch. Bound to the witch Nightsinger ever since she saved her from the bandits who murdered her family, Zera longs for freedom from the woods they hide in. With her heart in a jar under Nightsinger's control, she serves the witch unquestioningly.
Until Nightsinger asks Zera for a Prince's heart in exchange for her own, with one addendum; if she's discovered infiltrating the court, Nightsinger will destroy her heart rather than see her tortured by the witch-hating nobles.
Crown Prince Lucien d'Malvane hates the royal court as much as it loves him – every tutor too afraid to correct him and every girl jockeying for a place at his darkly handsome side. No one can challenge him – until the arrival of Lady Zera. She's inelegant, smart-mouthed, carefree, and out for his blood. The Prince's honor has him quickly aiming for her throat.
So begins a game of cat and mouse between a girl with nothing to lose and a boy who has it all.
Winner takes the loser's heart.
Literally.
Congratulations to Bring Me Their Hearts on its wonderful release! If the summary sounds at all exciting to you (be honest, how could it not?) be sure to click on the cover above to be directed to the Amazon link to pick up your own copy!
I was beyond excited when I came home from school to find a lovely box from Entangled Teen with this novel waiting for me. The premise sounded like everything I could have possibly wanted - a girl with no heart who must infiltrate the court to steal the actual heart of the prince? A war between witches and humans? I could barely contain my excitement.
This is definitely one of the coolest premises that I have heard in a while and I'm happy to say that the author does a fantastic job in the execution of the world and delivery of the plot. We delve into the history of Cavanos with Zera as she trains to act as the niece from the Y'shennria family, one of the oldest noble families in court, and learn all about the Sunless War with the witches and the tangled lines of court alliances.
One of my favorite parts of this story other than the world was the wonderful portrayal of non-romantic relationships. I adored the slow building mentor-student relationship between Zera and Lady Y'shennria from being wary allies to having genuine care for each other. We also have see some friendships blossom between Zera and Malachite, the prince's guard, and Lady Fione, one of Lady Y'shennria's allies.
Zera has such a fiery personality and we see that come through with her friends. Every time someone makes a remark, Zera is sure to have a witty response to shoot right back at them. In addition to that, I enjoyed seeing her vulnerable moments as that made her a more 3-dimensional character overall. Her struggle with the internal hunger and ultimately the decision of her heart or the prince's really allows readers to sympathize and understand her as a character more.
I definitely enjoyed Bring Me Their Hearts and I can't wait to see how the story continues to unfold. There are some very interesting plot twists towards the end that I'm excited to see resolved as well as just being able to continue watching these characters grow!
A copy was provided by Entangled Teen by all opinions are 100% my own.