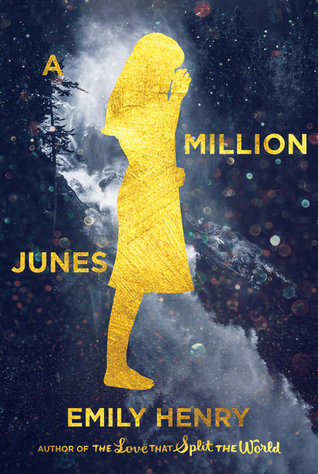 A Million Junes by Emily Henry
| ISBN:

9780448493961

| Pages: 350 |
Publication Date: May 16, 2017 | Source: Own
| Rating: 4 out of 5 stars |


★★

★★
For as long as Jack "June" O'Donnell has been alive, her parents have had only one rule: stay away from the Angert family. But when June collides—quite literally—with Saul Angert, sparks fly, and everything June has known is thrown into chaos.
Who exactly is this gruff, sarcastic, but seemingly harmless boy who has returned to their hometown of Five Fingers, Michigan, after three mysterious years away? And why has June—an O'Donnell to her core—never questioned her late father's deep hatred of the Angert family? After all, the O'Donnells and the Angerts may have mythic legacies, but for all the tall tales they weave, both founding families are tight-lipped about what caused the century-old rift between them.
As Saul and June's connection grows deeper, they find that the magic, ghosts, and coywolves of Five Fingers seem to be conspiring to reveal the truth about the harrowing curse that has plagued their bloodlines for generations. Now June must question everything she knows about her family and the father she adored, and she must decide whether it's finally time for her—and all the O'Donnells before her—to let go.
Deciding to pick this book up during finals was both a blessing and a curse. For one, the book absolutely captured my attention that it became so difficult to put it down when I had to study. On the other hand, it transported me to the little town of Five Fingers and gave me a temporary break from the stress of finals week.
I didn't expect to fall in love with this novel as much as I did, even now I'm debating whether I want to give it a 4 or 4.5 stars. Since this is my first time reading anything by Emily Henry, I didn't have a lot of expectations but I was completely blown away by the beautiful writing style. There's no good way to categorize the genre of A Million Junes - it falls somewhere between the YA contemporary and fantasy which I guess lands it in magical realism.
"Letting go is not forgetting. It's opening your eyes to the good that grew from the bad, the life that blooms from decay."
The author does such a good job in bringing the magical world to life while keeping the story grounded. I loved how the author combined poetry with a sense of casualness slipped in between conversation and her beautiful metaphors that became the whispered thoughts of characters. There are certain aspects that can get a bit confusing such as the multiple timelines, but Emily Henry just manages to take big issues like grief and love - and make accessible to readers while prompting them to think bigger.
"To love a handful of people very well, that's a good life."
There must be something about the family feud trope that, when done well, is such a game changer for me. A Million Junes draws upon the idea of Romeo and Juliet with this multi-generational feud between two families that comes to the test when a guy and girl from each side start to fall in love, but that's where the similarities end. I loved that there was no insta-love between June and Saul but that we got to really see their relationship blossom.
"My inheritance is grief and sunlight and the ability to choose which to hold on to."
In addition to their romantic relationship, Emily Henry also does an amazing job building the other relationships around each character. I absolutely love June's best friend Hannah - the friendship between the girls is too amazing beyond words. While there are times that Hannah tries to push the boundaries (especially in regards to Saul), she proves over and over again her loyalty to June and willingness to stand by her friend.
"Write the things you have the most to say about and the things you're afraid of messing up."
Pacing wise, I feel like there's never a dull moment. There are parts where events seem to take longer to unfold, but those are embellished with the beautiful quotes I mentioned before that it doesn't even matter that conclusions are taking longer to manifest. A Million Junes is written against the backdrop of grief and revenge against the possibility of love and forgiveness which combined with all its metaphorical goodness and emotions has secured a special place in my heart.